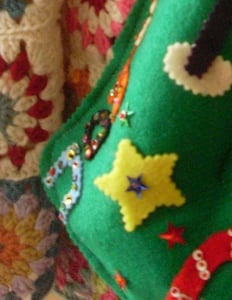 $

2.00
Not content with three decorations on your stocking? My mom will happily sew on a few others. Just add this option to your cart once for each extra decoration, and make sure to specify in the 'Note to seller' section of your PayPal order which decoration you'd like.
To refresh your memory, the available decorations are:
* bell
* candle
* gingerbread person
* snowman
* star
* stockings
* music notes
* mouse
* bone (if for dog)/ fish (for cat)
* holly
* wreath
* jinglebells (real ones!)
* santa hat
* tree
* heart
* candy cane
* baby in manger
In addition to these decorations, my mother sews on small sequins in the shape of snowflakes and pine trees.