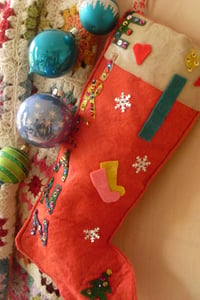 $

28.00
My mom's been making these stockings as gifts since before I was born; each Advent, they've hung in our hallway, and each Christmas morning they've magically appeared in the four corners of our living room full of small presents. They're a beautiful part of our family's tradition, and now we'd like to share them with you.
Each stocking is made of red or green felt (that's my very own in the photo!), trimmed with white at the top, and then decorated with felt shapes, sequins, and beads. The stockings are made entirely by my mother, working both by hand and with a sewing machine. Your name will run down the side of the stocking in capital letters.
The stockings are approximately 14"/36 cm tall and about 6"/15 cm wide.
Please select three decorations to add to your stocking, and type in the name you'd like on it in all capital letters. You can add this information in the 'Note to seller' section of your PayPal order.
* * * To add a note to seller, click the link directly under your PayPal postal address. * * *
* * * To change your address or ship to someone else, click the link to the right of the first line of your postal address. * * *
If you'd like more than three, extra decorations are $2--just add them to your cart in the main store.
Names longer than seven letters, add $2 per letter--you can find this option in the main store.
Decorations:
* bell
* candle
* gingerbread person
* snowman
* star
* stockings
* music notes
* mouse
* bone (if for dog)/ fish (for cat)
* holly
* wreath
* jinglebells (real ones!)
* santa hat
* tree
* heart
* candy cane
* baby in manger
In addition to these decorations, my mother sews on small sequins in the shape of snowflakes and pine trees.
Your stocking will ship to you approximately two weeks after order.
The last purchase dates for guaranteed delivery by 24 December are:
US: December 5
Europe: December 1
Rest of world: November 23
Thank you for looking.